Romax employee Malcolm who participated in the Snowdonia Challenge shared with us what it was like.
"Walking 100kms – over 3 days – it can't be that difficult, it's just walking after all?"
This was the response talking to some of my friends before, and after completing the 100kms in 3days Snowdonia Challenge.
They couldn't be any further from the truth, I ran the London Marathon two years ago, and The Snowdonia Challenge easily left my body more destroyed than the marathon.
First day – 38 km
The first day was a 38 km walk taking Team Romax from Betws-y-Coed through the Gwydyr Forest to Llyn Elsi, Dolwyddelan and Capel Curig, with a total ascent of 1549 metres. Hands-down, hiking is one of the best ways to enjoy life – it's awesome exercise, allows you to unplug, the scenery is unbeatable and, most of all, it gets you outside. Nothing beats a dirt-trodden trail surrounded by trees, mountains, wildflowers, rocks and all the stunning views your senses can handle.
The first 2kms was a very rude awakening up steep forest hillside and continuing to rise and fall throughout the day. When you start on the first day, you think to yourself "ah well, at least after the steep hill there will be the walk down afterwards". But by the second day, I can honestly say walking downhill was far more painful than walking uphill! It might seem like I'm not making sense, but the primary reason your knees hurt when hiking downhill is that they're under significantly more stress than when heading uphill or on flat ground. As you descend one leg at a time, the leading knee is obliged to absorb the impact of not only your body weight but also the added forces of going downhill and the weight of whatever you're packing!
Second day – 33 km
Our second day was a 33 km walk through the Ogwen Valley, enjoying some of the best Mountain Views in Snowdonia. Whilst this was probably the 'easiest' day out of the 3, with a lot fewer ascents and descents than Days 1 and 3, there were a lot of people walking around like characters from The Walking Dead that evening, all eagerly looking forward to day 3…!!!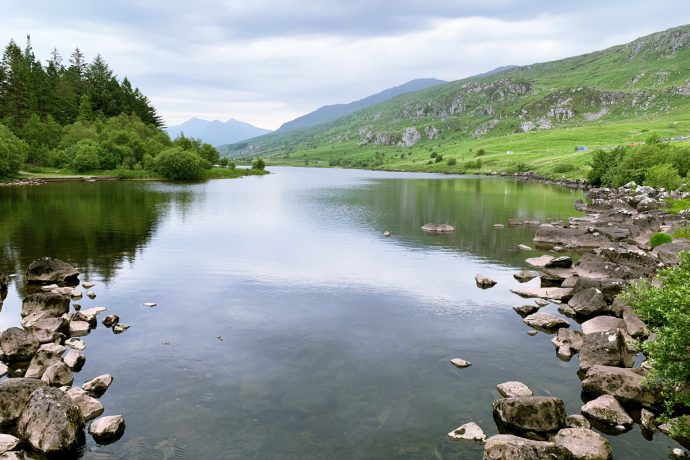 Third day – 29 km
Our third and final day was a 29km walk through Gwydyr Forest and around 3 of Snowdonia's beautiful hidden lakes. Geirionydd, Crafnant &Llyn y Parc. By now some of Team Romax were really suffering, as mentioned before, with walking downhill! It got so bad that different far fetched measures were used to make our descents – methods included: Jogging, walking backwards, skipping and even jogging left to right across the path! All aimed at taking the pressure off our completely shattered legs!!! And me, personally, chose to make things a little more difficult by getting lost just 5kms from home! I had missed an arrow and after a while came face to face with a sheer drop cliff… at this point I realised I was lost and had to backtrack, very carefully, to find the arrow I had missed!
But then eventually the finish line was in sight, we had done it, and the feeling of achievement was immense, with a medal and well-earned massage waiting for Team Romax as we crossed the line!
I personally would recommend this challenge to anyone who wants to know what it's like to truly push yourself,
to find out how to push through pain barriers, to combat fatigue and feel massively rewarded afterwards.
Romax raised over £3500!
This challenge was also extra rewarding for us at Romax because we managed to raise over £3500 for Porchlight, a Homelessness charity working in Kent and the south-east. Fortunately, most of us will never know how it feels to be homeless, to have to sleep rough, to never know where your next meal is going to come from, to wear the same clothes you have worn for who knows how long. And that is just the tip of the iceberg.
Rough sleeping takes away hope and destroys lives. No-one should have to experience it yet, shockingly, rough sleeping in England has risen by 169% in the last seven years.
So no matter how difficult the staff at Romax found this challenge, it pales into insignificance compared to being homeless.
We would like to give a massive thanks to the generosity of those who sponsored us at Romax.
---
«
Successful Take-off: Elements of a Memorable Product Launch
Direct Mail Marketing: Communicate to Your Audience Directly
»