A unique offering for a unique Club
Emma Bridgewater has a massive following of customers across the globe, but first amongst equals are those that belong to the 'Collectors Club'. Members of the club receive advantages over non-members such as special member days and advance sale access. Emma Bridgewater wanted to add value and recognise these members through special communications and offers that recognised their loyalty.
Creating beautiful, tangible and impactful printed communication that perfectly reflects the quality and originality of the Emma Bridgewater brand; combining personalisation, innovation and maintaining the affinity with the historic tradecraft of 'the Potteries' alongside a modern business focussed on retail and e-commerce.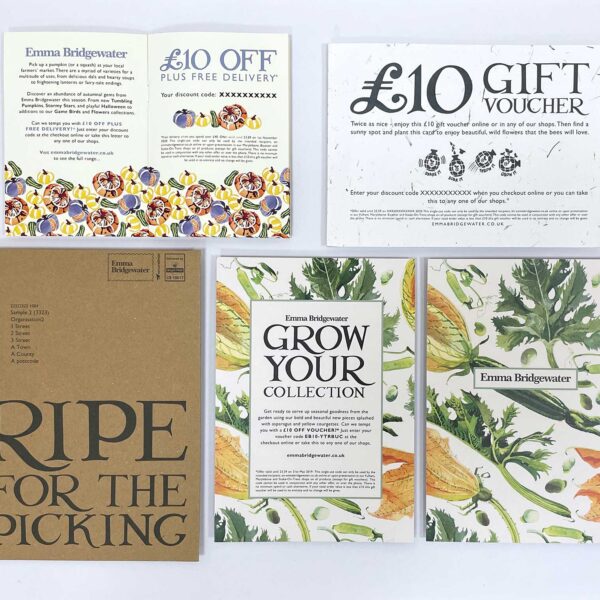 Specialist printing processes with added personalisation
Working closely with Emma Bridgewater's in-house design team, we discussed their requirements and provided insight and creative innovation. We then created and tested multiple potential packs and designs.
Using our own print tradecraft combined with the ability to use data to drive dynamic content including, it is possible to produce stunning packs that have immediate cut through, whilst remaining instantly recognisable as Emma Bridgewater.
Unique codes are added to communications for tracking at the web order stage. Substrates and stock are tested with multiple versions until the final desired results are achieved.
The use of specialist digital print equipment at Romax allows thick stock substrate printing to increase perceived value and implied quality.
Specialist finishing is added including foiling and edge to edge envelope print for impact and enhance the benefits of being an Emma Bridgewater Collector.
Increased engagement and significant up-spend
Collectors' Club members are now increasingly recognised and rewarded for their loyalty, adding increased value to the brand.
Impactful direct mail communications not only drive immediate sales, but also increase social media and further brand awareness through shared posts containing images of the piece and highlighting new product ranges.
Unique codes are incorporated creatively without detraction or devaluing brand. Increased trackability and customer preferences are learned through code based purchase which further develops preference based marketing.